German quality and OEKO-TEX®
certificate
behind FEILER's enormous
popularity in Japan
FEILER has been seizing the customer's attention for a long time in Japan.
This is an interview with representatives of FEILER both in Germany, a land of production, and in Japan with an overwhelming sales amount. They told us the key to their popularity and their commitment to quality control scientifically supported by OEKO-TEX® certificate, as well as their brand story and the prospects.
Left : Isabella Fritsch
Head of Marketing & Product Management, Ernst Feiler GmbH
Center : Naokazu Kakemizu
Deputy Director, Merchandising & Marketing Div. and General Manager, Marketing Dept.,
Feiler Company, Sumisho Brand Management Corporation
Right : Julia Shörner
Purchase, Ernst Feiler GmbH
Multi sales channel made changes
in main customer in Japan
When was the launch in Japan and what do you think is important for FEILER to run a business?
FEILER was launched in Japan about 50 years ago ― the founder of our previous company encountered FEILER in Europe and brought it to Japan with the owner's passion. Now Sumitomo Corporation is a parent company of Sumisho Brand Management Co. and our company style has changed, however, we still highly esteem our loyal customer since the launch and the fact they keep FEILER products for a long time.
A wide variety of product category has been offered since establishment.
Which type of product gains the highest demand by Japanese customers?
Popular items vary by countries and regions. Mainly towels in Germany ― hand towel, shower towel, and bathrobe. In Japan, handkerchief makes up around 30% of the whole sales. What I learned in Tokyo last year that every Japanese woman has at least one handkerchief in her handbag, which was amazing experience and I like the habit.
Who is the main target in Japanese market?
Nowadays more than 70% of customers are over 50s, on the other hand, we have seen a difference by stores: there's an increase in customers from 20s to 40s that make up 60% at the online shop and Ginza store. This may be caused by increase in the variety of products with pastel colors and cute design, as well as famous design with flower on black.
We are also connecting to more than 10,000 followers and have been welcoming 500 new followers every month at Instagram. The followers "like" the designs, such as swimwear, yacht, and fruit sandwich, that are not alike traditional ones: these designs sell well at online store and Ginza store.
Another significant point of FEILER is 60% of customers look for products for gifts.
FEILER – one and only brand
with highly skilled
staff and technical evolution
What is the appealing point of chenille fabric?
First of all, super soft touch no one else's product can be compared to ― the process is complicated: after the first weaving process, the textile is cut into stripes and twisted to make chenille yarn that is then, as the second weaving process, woven into the warp as weft yarn. Our weaving method is unique, as our dessins are set accurately due to the highly skilled staff and techniques.
Second point, the pattern is identical on both sides of the material. FEILER Chenille is NOT printed, unlike other patterned fabrics such as Velour.
Third point, FEILER Chenille is made in Germany. The entire finishing process from weaving to sewing and finally packing is taking place in Germany. The raw cotton of course is important.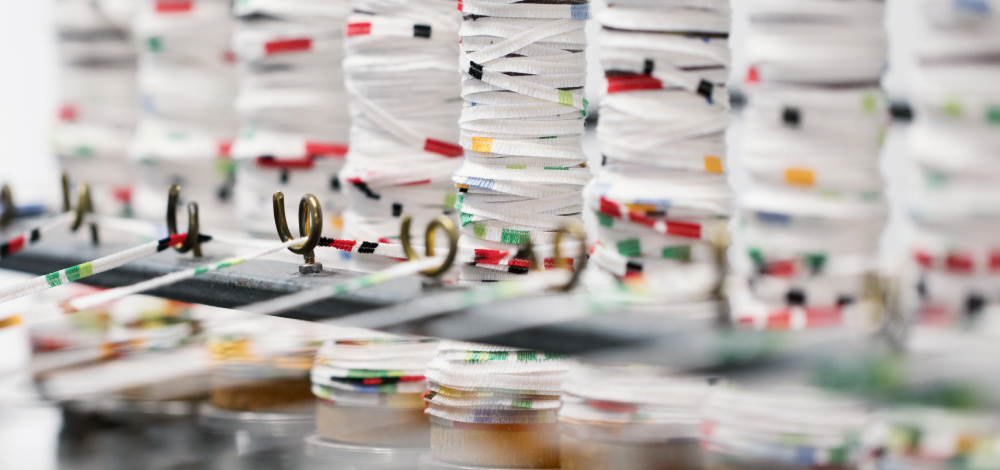 FEILER products gains high reputation for its quality.
What do you think is the most important thing on product development?
Continual improvement of the work process and machinery to achieve 'no-fault' result with high quality raw materials. Only FEILER has the machines, which have been developed, adjusted, and fine-tuned over the past decades. Furthermore, permanent investments are toward this goal.
It may happen that there is a problem during production, but the staff in the factory immediately reacts to solve it. The staff in general is very much connected to the company. This makes us a true unique brand.
OEKO-TEX® certifies excellence
of German products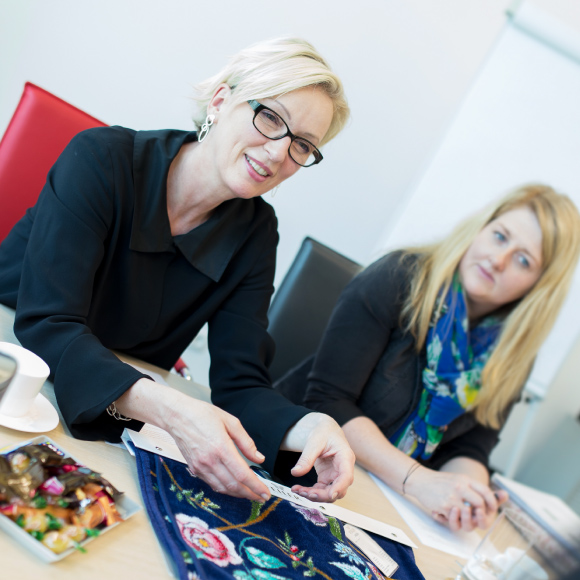 FEILER products' high quality has already been recognized for a long period of time. What was a trigger to gain OEKO-TEX® certificate?
In Europe, OEKO-TEX® is well-known and people expect that certificate on all kind of textile products. Of course, some companies don't care, but we do. There are two product classes for products with direct skin contact. We use product class Ⅱ for all products except babies up to three years old– here we use the even stricter product class Ⅰ.
You obtained OEKO-TEX® certificate in 2014.
Do you have any specific reason for this timing?
We did not consider the necessity before, because the German products anyway had to comply with strict national regulations for consumer protection. Consumers appreciated this fact. Therefore, we thought OEKO-TEX® certificate is more significant for imported textiles (e.g. made in Bangladesh, Pakistan). But considering the growing awareness of OEKO-TEX® as a standard worldwide, we finally decided to apply for the certification.
Do you find some changes in employees' mind or interest before and after obtaining OEKO-TEX® certificate?
A designated staff is working hard to find materials complying with OEKO-TEX® standards to use for baby products.
In general, the employees appreciate that FEILER is only working with OEKO-TEX® certified materials.
Dessins for Japanese market are specially developed in Japan. Are you working on something regarding OEKO-TEX®?
All the handkerchief and towels that are daily used and have skin contact are produced in Germany and OEKO-TEX® certified, as well as baby bibs made in Germany. Bags and accessories are partially certified for fabrics: they are using chenille fabric made in Germany and assembled in Japan.
We're thinking of providing more OEKO-TEX® certified products including baby items made in Japan.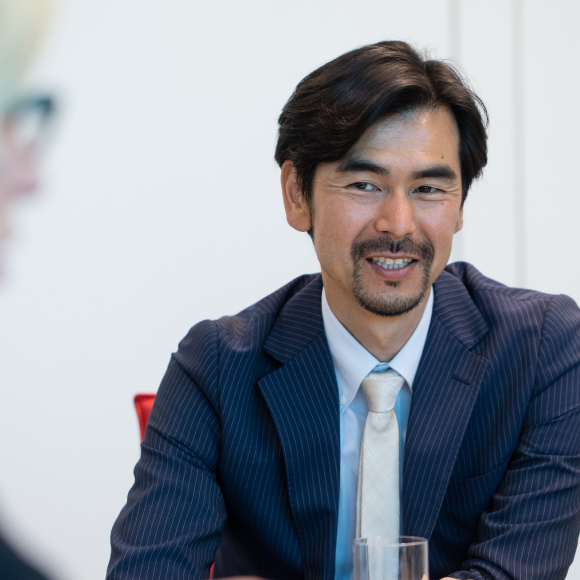 What do you expect for OEKO-TEX®?
In our case, OEKO-TEX® is a re-insurance of what consumers take for granted on products. We believe our customers are satisfied enough if we prove product safety and quality with OEKO-TEX® certification.
What do you see in Japanese consumers' attention for products' safety and security, besides care for the environment?
I feel a gap in consumers attention: some are taking care of environment and resources, for example, re-use, reduce, and recycle of materials, others still need to learn more about it. Those companies dealing with certified products may lead the market and contribute to raise the recognition of OEKO-TEX®: they probably expand their marketing activity towards high level eco-conscious targets.
I think that the awareness of people in general is changing. Especially Japanese people are conscious about themselves and the environment, and am certain that this will be reflected in the buying behavior.